Rochelle Jewell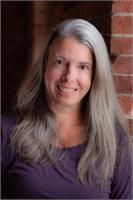 Rochelle Jewell, E-RYT, is the founder of My OmAbilities Yoga and the co-creator/author of the ChildLight Yoga for Children & Teens with Special Needs Training and manual. She is a Kripalu Certified Yoga teacher and personal trainer with more than a decade of experience sharing yoga with individuals with a variety of disabilities. Rochelle has completed the Creative Relaxation® Yoga Therapy for Children with Autism and Special Needs Level 2 training with Louise Goldberg and the Zensational Kids teacher training with Allison Morgan. Rochelle recently completed a fellowship with the NH LEND Program through UNH, which included 300 hours of graduate level, interdisciplinary, leadership training in developmental disabilities. She is currently pursuing a graduate certificate in Intellectual and Developmental Disabilities.
Rochelle works with students and families in private settings and leads group classes for children, teens and adults with special needs. Rochelle is passionate about making yoga accessible to all and meeting her students where they are to give them tools which allow them to shine.
Rochelle Jewell instructs the following:
Time: Fri, Sat & Sun 8am-4:30pm

Location: ChildLight Yoga Studio, 53 Washington Street, Suite LL100, Dover, NH

Tuition: $575




Upload of purchase order is required at the time of registration. The billing contact will be emailed an invoice upon approval of the PO within three business days. For all ChildLight Yoga Teacher Training PO registrations, please add a $25 processing fee for 1-2 individuals or $50 processing fee for 3 or more.