Meg Durkin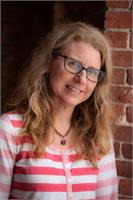 Meg Durkin, MS, E-RYT, RCYT
is a ChildLight Yoga® and Yoga 4 Classrooms® Trainer, and founder of Yoga Magic 4 Kids. Meg is the coauthor of the ChildLight Yoga & Mindfulness in Schools Teacher Training manual and writes articles on the topic of yoga and mindfulness for children and in schools for local media outlets. She works extensively with educators, parents and children promoting stress reduction, healthy nutrition, movement and mindfulness at a young age as a foundation for success at home, school and in life. In addition to being a registered adult and child yoga teacher through Yoga Alliance, Meg has studied MBSR in Mind-Body Medicine with Jon Kabat-Zinn and is also a certified health coach through the Institute of Integrative Nutrition. She holds a BA from Middlebury College and a Master in Library and Information Science from Simmons College. Meg lives in Hingham, MA with her four children. View Meg's video bio on the CLY YouTube channel here:
https://youtu.be/ymUTF1kzLzQ
Meg Durkin is currently not instructing any classes.